Privacy Policy
Please note that your privacy is important to us, as it should be. Users of the Liber Pro app are not monitored, your information is not retrieved, your hardware is not used to spy on you.
Liber Pro was first released around the same time as iMass. Together they complement each other in pursuing the same goal of making Holy Mass in the Traditional Form easily available everywhere.
Originally created and developed by Mr Michael Drake of Drake Applications, the app is now entrusted to LiveMass and the FSSP to continue preserving and developing. Liber Pro brings the Liber Usualis to your Apple device.
The Liber Usualis is considered the official chant book of the Church. It is difficult and expensive to find a Liber Usualis these days. They are rare and reprinting is difficult. Most of the time when you do find one, it is an old copy that has seen better days.
Liber Pro is the next best thing to having the hardbound book in your hand. Actually, some might claim that it is easier - the calendar feature will link you to the correct page for each Liturgical Hour of the Divine Office and the Holy Mass for the current Feast Day.
What's more, you can mark up your Liber too! With the annotation feature you can mark away, however you find it best to help read the chant notation. With a push of a button you can either hide or show the annotations that you have made. No more concern of destroying old historic books by writing all over them!
You can set bookmarks and easily go back to the places you have marked, very much like slipping in a holy card to mark your place.
Dark mode helps when you don't want the screen to be bright, for example during the chanting of Tenebrae.
In order to continue the spread of the Latin Mass, we have made Liber Pro absolutely free - including removing the in-app purchases and including the previously subscription-based features for free.
Whether you simply want to join in the singing of the Missa de Angelis on a Sunday, or chant Vespers, or if you are a member of a church schola, you will find Liber Pro to be a resource you need.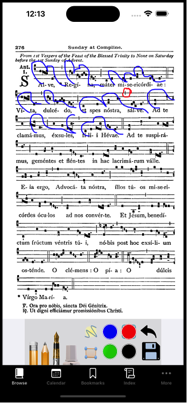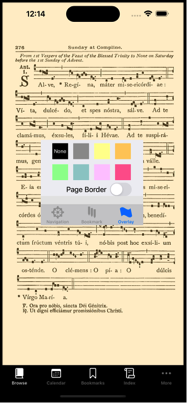 Version History
3.6.2
Sep 20, 2023
- Improved the code to allow hiding the tab bar on newer iOS versions. This is an option you may choose under settings. - Gave a general facelift and some new paint - Added a Walkthrough to get you familiar with all the features of Liber Pro! - Updated deprecated parts of the code, squased a few bugs, made it compatible with iOS 16
3.5.3
Sep 15, 2023
- Removed availability for Mainland China due to local restrictions and requirements.
- Some code clean up and updating.
- Changed the App Version numbering to reflect the iMass numbering system. First number reflects major upgrades, second number is for minor code fixes and third number is for amount of times submitted before being accepted by the App Store.
3.3
Apr 3, 2021
- Stability improvements and updates for iOS 14.
3.2
Oct 27, 2020
- Bug fix for in-app purchase restoration on iPad
3.1
Sep 18, 2020
- Support for Dark Mode
- Option to invert chant colors in Dark Mode
- Improved placement of chant on iPad and tall devices
- App settings now accessible in the app itself
3.0
Jun 25, 2020
- Update for iOS 13
- Annotations (In-App Purchase Required)
- Search (In-App Purchase Required)
2.1
Dec 12, 2017
- Update for iOS 11
- Calendar fix for the Vigil of Christmas falling on Sunday
- Fixed zooming issues from previous version
- Support for split screen on compatible devices
- User-selectable control over the following paging behaviors:
- Center page after swipe (on by default but can now be turned off via Settings app)
- Bounce off edges when scrolling (on by default but can now be turned off via Settings app)
- Page margin
2.0
Sep 11, 2015
- Updated for iOS 8.
- Added alternate feast to calendar view.
- Added page border option.
- Renders native PDF on all devices.
- Fixed a few minor calendar inaccuracies.
1.2.1
Nov 21, 2011
- Restored multitasking awareness.
1.2
Nov 10, 2011
- iOS 5 Compatibility
1.1
Jan 5, 2011
- Fixed bug where Liber Pro would hang when trying to determine the date of the 23rd Sunday after Pentecost in 2011.
- Added support for iPad.
- iPad will render pages as PDF.
1.0
Sep 18, 2009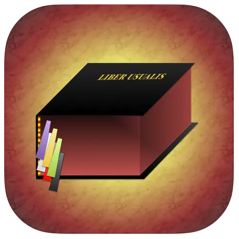 Support
For support please email anchoright@livemass.net
Android
We regret there are no plans to make a Liber Pro app for android at this time. Any app on android with this or a similar name is not part of our project and not maintained by us.
If this changes in the future, this page will be corrected with appropriate updates.